The Ultimate Google Rankings Workshop for Roofing Companies!
College Station, United States - May 26, 2023 / RoofingSites.com /
RoofingSites, a preeminent force in roofing industry marketing, recently offered an innovative workshop on mastering Roofing SEO to outrank the competition on Google. This game-changing event has underscored RoofingSites' commitment to driving success in the digital marketing realm for roofing businesses.
RoofingSites Unpacks the Power of Roofing SEO
Roofing SEO is a tactical process aimed at enhancing a roofing company's online visibility. It leverages targeted keywords, website optimization, high-quality content, and local SEO strategies. By driving higher search engine rankings, RoofingSites is enabling businesses to attract more traffic, generate quality leads, and increase revenue.
SEO Targets Unveiled by RoofingSites
RoofingSites' workshop honed in on the purpose of SEO: improving your roofing business's visibility on search engines. By optimizing your website to rank higher in roofing service-related search results, you can reach potential customers actively seeking roofing services, thus driving more qualified leads.
RoofingSites Presents: Digital Marketing Strategies for Roofing Businesses
RoofingSites explains that digital marketing encompasses all online marketing efforts. Utilizing digital channels such as search engines, social media, email, and websites, they help businesses connect with current and prospective customers. 
Chris Hunter, the owner of RoofingSites, highlights, "In today's digital age, just having a website or a social media page is not enough. Roofing businesses need to understand and implement effective SEO strategies to stand out from the competition. Our recent workshop focused on this very aspect - providing practical, easy-to-implement tips to optimize websites, use the right keywords, and target the right audience. It's all about being seen by your potential customers at the right time, in the right place - and that's where roofing SEO comes in."
RoofingSites Reveals the 4R Roofing Marketing System
In the workshop, RoofingSites discussed their 4R Roofing Marketing System – a proven performance-based marketing framework. This system, consisting of Reputation, Reach, Resell, and Referral, serves as a launchpad for revenue growth. 
RoofingSites combines the power of advanced marketing techniques and digital marketing strategies to help roofing businesses attract, engage, and retain customers. At the heart of this system is the effective application of roofing SEO, optimizing websites to attract more potential customers by outranking competitors on Google.
For more insights from RoofingSites and to learn more about their game-changing workshop regarding next-gen digital marketing techniques, visit RoofingSites' blog post here. 
About RoofingSites
RoofingSites is a leading marketing company with a special focus on the roofing industry. Committed to driving success for roofing businesses across Texas, RoofingSites offers the expertise and strategies to enhance revenue through proven, performance-based marketing frameworks, emphasizing the transformative power of roofing SEO.
Because digital marketing is the best strategy for roofing companies, get superior digital marketing services with the experts at Roofing Sites - call (979) 314-7067 and out-market the competition!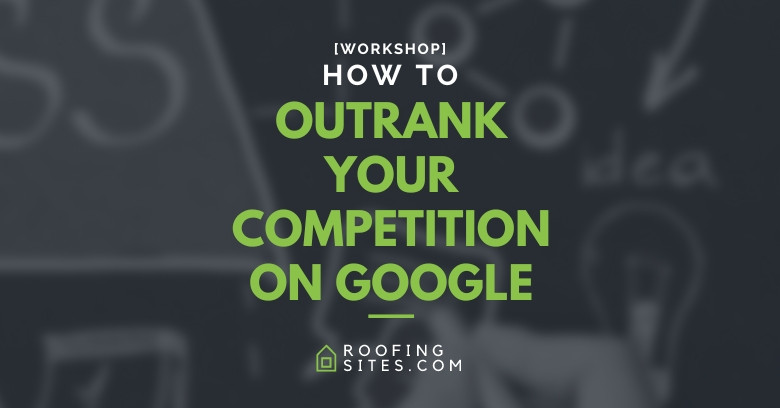 Contact Information:
RoofingSites.com
1511 Texas Ave
College Station, TX 77840
United States
Chris Hunter
(979) 314-7067
https://www.roofingsites.com/

Original Source: https://www.roofingsites.com/blog/workshop-how-to-outrank-your-roofing-competition-on-google/